Lapauw Ironer 1x1200x3000 with Lacofold
VERKOCHT – SOLD
Simular Lapauw ironer now ready for sale
check here our lapauw ironer steamheated build 2007 very good condition
Goud Laundry Solutions offers ironers for all types of laundries whether your focus is high quality or high performance. Below we present you the Ironer Lapauw Ironer 1x1200x3000 with Lacofold with extra long feeding bed and suction the Ironer is complete with Lacofold folding machine.
Ironer nr.24145
Brand                                          : Lapauw ironer mono including Laco Fold folding machine
Feeding belts                              : extra long and included suction tunnel
Roll                                             : 1 X 1200 X 3000 mm
Rolldiametre                               : 1200 mm
Roll length                                  : 3000 mm
Production                                  : 380 kg/h / 838 lbs/h
Ironing length onder pressure    : 2,05 m / 81 inch
Total heated length                     : 2,05 m / 81 inch
Ironing speed                              : 16 m/min / 53 ft/min
Drive motor power                      : 4 kW / 5 HP
Heating                                      :  Steam heated
Year                                           :  2000
Condition                                    :  Very good condition
Price                                           :  Ex. Warehouse Rotterdam, The Netherlands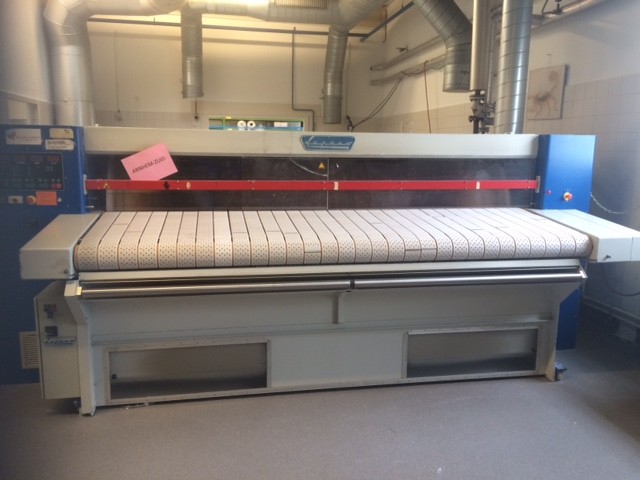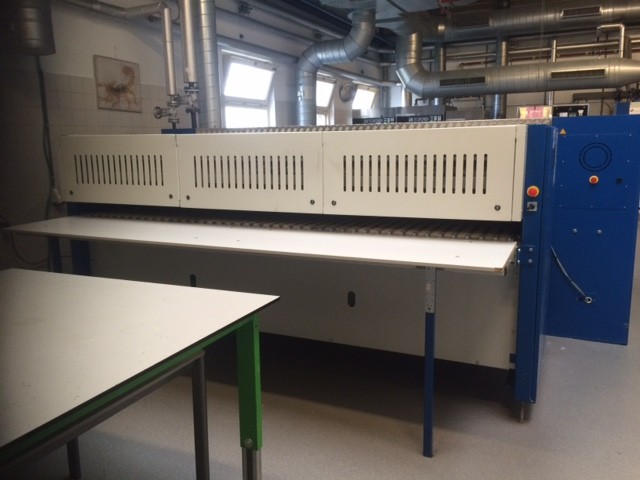 HINGED CHEST : THE TRUE FLEXIBLE STEAM CHEST
The biggest challenge for a steam heated flexible chest is steam pressure. High steam pressure will distort thin chests.This is why Lapauw prefers the hinge system. By using a hinge, we can use 2 separate parts of sufficient thickness to withstand the tremendous forces that exist with the steam pressures that are commonly used, while the hinge assures optimal flexibility.
100% CARBON STEEL PREVENTS 'COLD SPOTS' IN THE CHEST
Lapauw is the only ironer manufacturer that manufacturers his chests fully in high grade carbon steel. With a heat conduction factor 4 times higher than stainless steel, a carbon steel chest propagates heat much faster. By using only carbon steel for its chests, Lapauw assures optimal heat distribution over the full ironing surface, preventing "cold spots".
HYDRAULICS GUARANTEES A CONSISTENT IRONING QUALITY.
Unlike common flexible chest technologies that rely on pneumatics to lower and raise the roll, Lapauw uses hydraulics to lift the chest;.The hydraulic system is fully integrated, giving you a fail-safe system, independent from any external source (air compressor).This is how Lapauw guarantees you a consistent and reliable pressure between chest and roll.
LAPAUW INDIVIDUAL SPRINGS : DESIGNED FOR SPEED
The thick, stitched padding is firmly held in place by the individual springs, assuring it does not shift of get damaged when the ironer runs at high speed. With the Lapauw individual spring and stitched padding, the Lapauw ironer is prepared for the speeds of tomorrow.
Also new Lapauw ironers available for export
Goud laundry Solutions can also provide you with new equipment like Lapauw ironers, tunnelfinishers, Medical washingmachine like the MediWave.
Also new Laco ironers en folders available
Goud laundry Solutions can also provide you with new equipment like Laco ironers and the LacoFold machines.
Also new Unimac washingmachines, tumblers, ironers and folders
Goud laundry Solutions can also provide you with new equipment like
Unimac washingmachine frontload
Unimac washingmachine topload
Unimac washingmachine medical
Unimac tumblers steam, gas, electric heated
Unimac ironers wall mounted and straight thru models
Unimac folders
Spareparts
Goud Laundry Solutions can provide you with
Cissell spareparts ( the biggest stock of Cissell parts in the world)
Unimac spareparts
SpeedQueen spareparts
Ipso spareparts
Huebsch spareparts
Any question send us an email or fill in the contact below, we will contact you as soon as possible.